A super simple, moist and delicious almond cake.  A perfect tea time treat.
You know those days when you fancy something sweet with your cup of tea but the cupboards are bare and you just can't face a trip out to the shops.
Well I had one of those days yesterday.
I raided my cupboards and unearthed a selection of nuts and decided on making this simple and easy Almond Cake.
The kids were horrified when it came out the oven.
"It looks like bread" and "it hardly has any icing on it" were just a few of the complaints.
Of course they couldn't resist just a little nibble and that was all it took to convince them that it was delicious.
This almond cake is such a forgiving recipe and more often than not I have all the ingredients in my cupboard ready to go.
It is lovely and light and thanks to the Quark it is lower in fat than your average cake recipe.
Perfectly delicious for any tea time treat!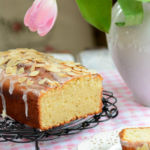 Print Recipe
Almond Cake
Ingredients
115g butter


115g caster sugar


2 large eggs


½ tsp almond extract


150ml quark (or plain yogurt)


170g self raising flour


50g ground almonds


½ tsp bicarbonate of soda


For the icing


6 tblsps icing sugar


1 tblsp warm water


4 tsp flaked and toasted almonds


Instructions
Preheat the oven to 180°C (350°F, Gas 4).



Grease and line a loaf tin (23cm x 12cm).



Cream the butter and sugar together until pale and fluffy.



Add the eggs, almond extract and quark and beat again until well combined.



Add the flour, ground almonds and bicarbonate of soda to the wet mixture and beat together until just combined.



Spoon the mixture into the loaf tin.



Bake in the centre of the oven for 35 - 40 minutes.



Remove loaf from tin and leave to cool on a wire rack.



Sieve the icing sugar into a small bowl.



Add the water and mix with a spoon until the correct consistency has been achieved.



Spread the icing over the loaf with a palette knife.



Sprinkle the flaked almonds over the top.


Hi, I am Jennifer. I love the art of cooking! I studied food science in the University and I am keen to helping ladies make delicious and healthy food. I am a single Mother of two. Enjoy.