Well it's taken me a while to get back into blogging again and I have done so on one condition – I had to join Slimming World. Here is a slimming world chicken recipe; the one-pot chicken chilli.
You see, for every recipe on this blog, I make and test it three times.  Now my hubby doesn't eat desserts or cakes and I don't want to be giving them to my kids every other day so ….. Well you guessed it.  I was eating my fair share and giving the rest away to my hubby's co-workers.  Not the ideal way to live a healthy lifestyle.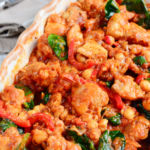 Print Recipe
One Pot Chicken Chilli - Slimming World Chicken Recipe
Ingredients
Fry Light Cooking Spray



1

KG

skinless and boneless chicken thighs



2

tblsp

olive oil



1

onion, thinly sliced



2

red peppers, sliced


garlic cloves, finely chopped


1

tblsp

tomato puree


400g

g

can chickpeas, drained

400

g

can chopped tomatoes

300

ml

chicken stock

3

red chillies, deseeded and finely chopped

1

tsp

Tabasco sauce

100

g

baby spinach
Instructions
Cut the chicken thighs into smaller pieces about 3cm each.



Spray a frying pan with the Fry Light and fry the chicken pieces in batches, until golden all over.


Remove from the pan and set to one side.

Add the 2 tblsp olive oil to the frying pan and fry the onion and red pepper over a gentle heat.


The residue from the chicken should loosen up from the bottom of the pan.

Once the onion is soft, add the garlic and fry for another couple of minutes.

Add the tomato puree, the chickpeas, chopped tomatoes, chicken stock, chopped chillies and the Tabasco sauce and stir to combine.

Add the chicken back to the pan, cover and simmer over a low heat for 30 minutes or until the chicken is cooked through.

Add the spinach to the pan about 3 minutes before the time is up and stir through to wilt.
Notes
TIPS FOR SUCCESS
1. The reason the preparation time is so long on this recipe is because I use chicken thighs which tend to have quite a bit of fat on them.
I take the time to trim this all off but if you wanted to save some time you could use chicken breasts which are much leaner. You would however compromise on the taste and tenderness of the meat.
2. I would try and get as much colour on the chicken in the browning process because chicken thighs can look a bit dull and grey if you leave this process out.
3. I have stated 300ml of chicken stock (I use 1 stock cube) but this will depend on the pan you use, if you use gas or electricity and how fast your simmer rate is. If the sauce looks too dry towards the end of cooking time – add more water.
If there is too much liquid – take the lid off and simmer for a couple more minutes until you get the correct consistency.
4. How spicy do you like it?  This is a difficult one to put down in a recipe because there are so many different varieties of chillies out there. 
I use a medium strength chilli but if you're not sure then try with one less and add more the next time you make it.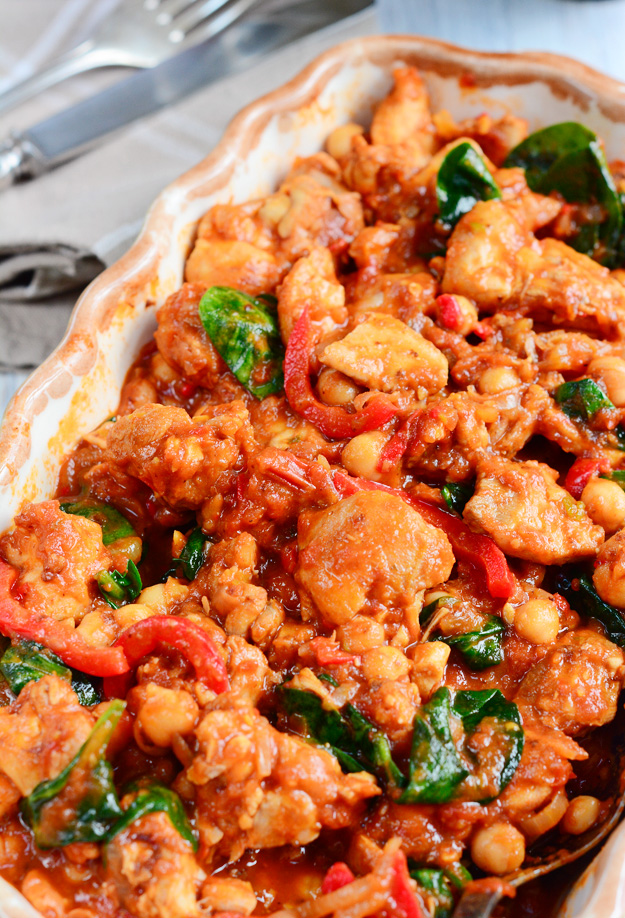 Enjoy
Hi, I am Jennifer. I love the art of cooking! I studied food science in the University and I am keen to helping ladies make delicious and healthy food. I am a single Mother of two. Enjoy.