Well I've finally succumbed to all the gorgeous cocktails that Lucy of Supergolden Bakes teases us with every week. When it comes to cocktails I normally stick to a few safe options which I know will hit the spot but if you are a regular reader of Supergolden Bakes (and if you're not then you should be) you will be tempted with something new almost every week.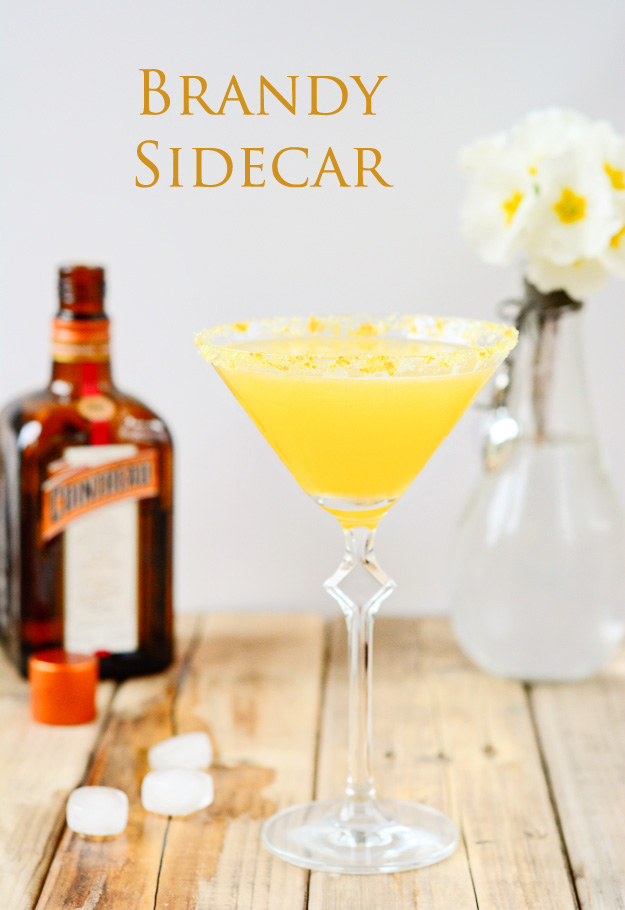 Of course, making cocktails is not a cheap exercise and I certainly don't have the choice of drinks that Lucy has but I do have some of the basics.  After a bit of research I found that I could rustle up a Classic Brandy Sidecar. My first attempt was good but just a touch too sour for my liking. I added in the orange juice to sweeten it slightly and rimmed my glasses with sugar which made it very drinkable.
So, not quite a classic Brandy Sidecar but if like me you prefer something slightly sweeter then this version is worth a try.
Mmm I might just have to try another one to make sure   It is the holidays after all.
Brandy Sidecar
Ingredients
2tblsp sugar


zest of 1 orange


25ml Brandy


50ml Cointreau


Juice of 1 lemon


Juice of ½ orange


Ice cubes


Instructions
Mix the sugar and orange zest together in a shallow saucer.



Wet the rim of your cocktail glass with some lemon juice.



Dip the edge of the cocktail glass in the sugar and zest mixture. Leave to dry.



Add the Brandy, Cointreau, lemon juice, orange juice and 4 - 5 ice cubes to a cocktail shaker.



Shake well for at least a minute.



Strain into your cocktail glass.


Enjoy!